Products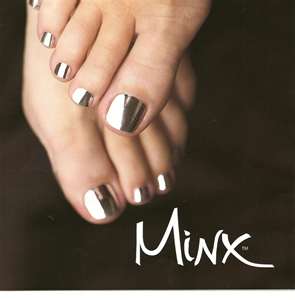 Minx is an exciting, new and glamorous way to extend fashion to your fingertips. Wearing this innovative new concept in nail fashion from America, clients who have been minxed cannot believe the attention and compliments they recieve - a perfect treatment if you want to stand out from the crowd. Loved by celebrities such as Beyonce, Lady Gaga, Katy Perry and Victoria Beckham.
Available for both fingers and toes, in designs ranging from fantastic mirror like metallic colours to funky designs. Match Minx to your outfit, lipstick or even shoes.
Minx is a revolutionary solid film with an adhesive backing that is heat activated and sealed onto the nails. It is applied quickly, has no drying time, won't chip or smudge and doesn't damage your natural nail. There are no chemicals involved in the process, just heat and pressure.
Beautiful and affordable, with super-easy aftercare, Minx will last up to 6 weeks on your toes and 7-10 days on your fingernails.
Please note: Do not cut your toenails before your appointment.
Why not get together with some friends and have a Minx nail party? Great for a birthday or hen night or just a pampering treat!
4+ Guests: £20 each (Toes or Fingers)
Aftercare Advice
Don't bite or pick your nails, as this can lead to the Minx peeling off at the free edge. Remember, the better you look after your Minxed nails, the longer they'll last!
Wear rubber gloves when you're washing up or cleaning. Minx cannot be damaged by ordinary household cleaning products, but wearing gloves helps to protect them from abrasion.
After a hot bath or shower smooth over the Minx with your finger whilst still warm and allow to cool.
If the Minx starts to wear off at the edges, you can smooth it by using a very fine file, filing away in one direction. You can also use a clear top coat of nail varnish over your Minx to protect it further.
Use a hand cream and/or cuticle oil on your nails every day. Neither of these will damage the Minx nor make it lift!
How do I remove Minx? You can either have Minx removed by me or do it yourself at home using a hairdryer: Warm your fingernails under the hairdryer on a warm (not hot!) setting for about 20 seconds. Check to see if the Minx material has become softer and if you can break the seal from one side. If this is not possible warm it for slightly longer and try again. Once you break the seal, the Minx should peel away easily without damaging your nail plate. Only peel from side to side not top to bottom.